Alexa Child, Jacqueline Child
www.dateabilityapp.com
[email protected]
FOR IMMEDIATE RELEASE
October 21, 2022                      
Dateability Launches Dating App for Disabled and Chronically Ill Community
Dateability is making love accessible to people with physical, intellectual, and psychiatric disabilities
DENVER, Colo. (October 15, 2022) – Dateability, the dating app designed for people with disabilities and chronic illness, launches today on iOS, Android, and web. With Dateability, users can find love in a safe space that minimizes the ableist behaviors and expectations perpetuated by society.
One billion people experience some form of a disability, but few things are designed to help and enrich disabled people's lives. Despite the online dating market valuing at $7 billion, the disabled community has rarely been considered in online dating development.
Co-founder, Jacqueline Child, says, "The dating world has been unkind to me—I have been told that my disabilities make me undesirable or that dating a person with complex medical needs seems too stressful. My experience is not unique, but now Dateability users can form meaningful connections without those awkward moments, such as finding the right time to disclose one's disability."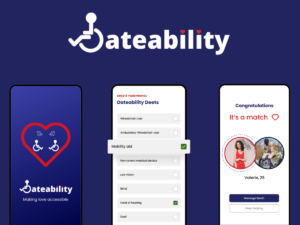 Dateability's unique profile descriptors, called Dateability Deets, allows users to include details of their disabilities, such as checking boxes for mobility aid, intellectual disability, or permanent medical device. While Dateability caters to the needs of disabled and chronically ill people, able-bodied individuals are permitted to join. The inclusive nature of Dateability also means supporting users of all sexual preferences and gender identities. Alexa Child, co-founder, states, "We are here to change the dating game for millions of people. We are thrilled to finally serve a community that has so often been overlooked."
Based in Denver, Dateability has a team dedicated to revolutionizing the dating experience. Dateability was co-founded by sisters, Alexa and Jacqueline Child and developed by R2 Consulting.
Dateability is available for iOS, Android, and web application. For more information, visit info.dateabilityapp.com or email [email protected]